Carolina Farms & Homes approaches 30 Years as the Farm and Land specialists.
Carolina Farms & Homes knows what you're looking for. It's the same thing we appreciate about the area we love to call home! We're a real estate firm that specializes in listing and selling farms, land and country homes in North Carolina and Virginia.
The northwest Piedmont region of North Carolina and Southern Virginia offers an unbeatable combination of beautiful rural property, low taxes, and easy access to a big city with a first-rate transportation network, shopping, great restaurants, and quality healthcare. Carolina Farms & Homes found a niche in the real estate market in the early 80's and has continued to grow and expand every year.
Real estate is intensely local; our agents really know the areas that they serve. We have solidified our position in the market as the "go to" real estate firm for farms and homes with acreage.
Today, Carolina Farms & Homes has two offices, 15 Agents and two partners. Ellen Peric manages the Pilot Mountain office, and Leon Inman manages the King office. We also formed a sister company called Virginia Farms & Homes to serve the rural Virginia counties along the North Carolina border.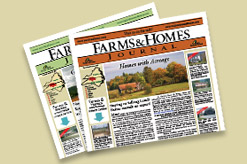 The company publishes the "Farm & Home Journal", a tabloid that features all our property listings as well as information on how to go about purchasing properties.
Our website, www.carolinafarms.com allows buyers to search for homes with acreage, country estates and land – not an easy task – just compare our site with others.
The agents at Carolina Farms & Homes are ready to help you find a farm, a land tract, or a great home in one of the small towns in our area. If you have special needs, we can meet it, whether you want a particular combination of woodland and streams, land with a view of the mountains, a horse farm, or even an ostrich farm! We can also help with special searches outside our area through our Carolina Farms network.
Don't put up with the rat-race another day! Contact Carolina Farms & Homes … Living in the Country just got Easier!