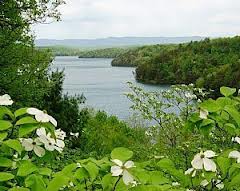 Picture Yourself Here!
Set in the Southern Piedmont of Virginia and the foothills of the Blue Ridge Mountains, Henry County is home to major industries, NASCAR Nextel Cup racing, and an unsurpassed quality of life.
Martinsville and Ridgeway are the big towns in Henry County, and there are several other smaller communities.
Even though Henry County is largely rural, with plenty of "huntin, fishin, and racin", there's plenty of cultural arts and music events, golf courses, museums, and recreation.
In Henry County, it's just a short ride to the Blue Ridge Parkway, Smith Mountain Lake, Philpott Reservoir, Fairystone State Park, and the Smith River. For retirees and the younger generations, Henry County offers small town values, southern hospitality, four lovely seasons, good schools, lots of sports, and easy access to two major cities (Roanoke and Greensboro).
If you're interested in Henry County and you are looking for a recreational/hobby farm, a home with acreage, a rural land tract to build your dream home, or a great home in one of Henry County's small towns, call Virginia Farms & Homes. Listing and selling rural properties like these is our specialty and niche. Give us a call.
Henry County Information Links
SCHOOLS
COMMUNITY COLLEGES
COLLEGES/UNIVERSITIES
PARKS
MUSEUMS
GOLF COURSES
HOSPITALS
UTILITIES
COUNTY RESOURCES
ECONOMIC DEVELOPMENT
VINEYARDS
LIBRARY LOCATIONS
CHAMBER OF COMMERCE
LOCAL/REGIONAL NEWSPAPERS/RADIO
HISTORIC LANDMARKS
Current Henry County Listings