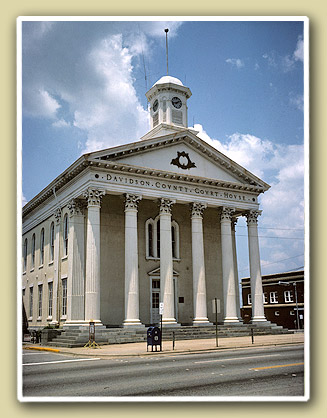 More Than You Can Imagine!
Davidson County is mostly rural and is situated in the heart of North Carolina's Piedmont Triad. It is served by four major highways and interstates. This provides easy commutes and employment opportunities from Charlotte to Raleigh, and from High Point to Greensboro and Winston-Salem. If you are looking for rural living or a small town atmosphere with affordable housing and strong schools, consider Davidson County. Lexington and Thomasville are the major cities in Davidson – followed by Denton and Wallburg.
Lexington – The Barbecue Capital of the World – has more than 20 barbecue restaurants and hosts a major festival each fall. Other areas of interest are the incredible Childress Vineyard, the Bob Timberlake Gallery, great golf courses, and the whole recreational and living area of High Rock Lake and the Yadkin River
If you're interested in Davidson County and you are looking for a recreational/hobby farm, a home with acreage, a rural land tract to build your dream home, or a great home in one of Davidson's small towns, call Carolina Farms and Homes. Listing and selling rural properties like these is our specialty and niche. Give us a call.
Davidson County Information Links
SCHOOLS
COMMUNITY COLLEGES
COLLEGES/UNIVERSITIES
PARKS
GOLF COURSES
HOSPITALS
UTILITIES
COUNTY RESOURCES
ECONOMIC DEVELOPMENT
VINEYARDS
MUSEUMS
LIBRARY LOCATIONS
CHAMBER OF COMMERCE
LOCAL/REGIONAL NEWSPAPERS
ATTRACTIONS
Current Davidson County Listings